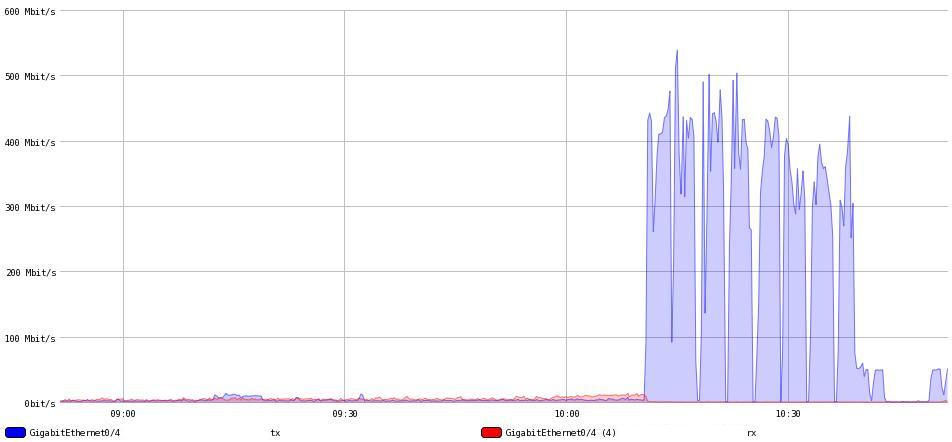 They tried to requote us for their 21CN broadband platform, assuming we take it in London as they wanted to charge us 50p per meter all the way from Manchester to Belfast (totaling some £250k). After carefully examining our current installation they decided that we should replace our pair of 34Mb pipes with a single pipe containing:
20 users on 24Mb ADSL sharing just 1Mb of bandwidth.
All other users sharing 30Mb of bandwidth on old 20CN 8Mb ADSL.
Added in enhanced care for all users at £8 a go.
Forgot monthly broadband line rental charges at £7.90 a go.
Will charge us for bandwidth across the 21CN network, plus charges for 3km of fibre across the London Docklands and we have to provide the BRAS – but yet they still have the balls to charge us £24k a year just for the privilege of doing business with the almighty BT Wholesale. Seriously, noone can explain what this charge is for given that they have separate charges for both bandwidth and fibre.
When I entered the correct figures into their shitty little price sheet, added in all the things they forgot, it came to a whopping £26 per user before any profit margin is added.
By comparison, Be/Fluidata is charging a non-recurring £3k to setup a simple crossconnect in any London Telehouse, and then all we pay are simple line charges depending on the product used, the average one of which is £16 per month.
It's quite clear that BT Wholesale is not interested in providing any sort of service to other service providers. The ridiculous ordering/faults system, the outright denial of clear area-wide faults and now these ridiculous and quite arbitrary charges for access to their so-called 21st Century Network that still doesn't properly support IPv6 are all very telling.
Want to limit the total bandwidth available to a Linux server, and don't want to do it at the switch or router? Here's how!
A few further thoughts on things that people forget to take into account when attempting to measure bandwidth:
When measuring bandwidth, attempt to use a site or tool that is close to your ISP. If you're in the UK and you try to test your connection using a site hosted in the US it's never going to give you a decent idea of your speed. I recommend Speedtest.net, as it's a single tool that can test to a multitude of different locations and will give you a much better idea of exactly how your line is performing.
Remember to allow around 10% for overheads. An 8Mb ADSL line will top out at 7.2Mbps. This is due to overheads for the ADSL line itself: a certain amount of bandwidth is required to manage your packets that will not be visible on any web-based bandwidth test.
Any download requires a certain amount of packets to be sent in the opposite direction. Usually these are acknowledgement packets to assure the server you are downloading from that everything is being received okay (or not, as the case may be). Again, that magic 10% figure is the one to watch out for. A 1Mbps download will roughly need a 100Kbps upload. If you are using up all your upload bandwidth, your download bandwidth will be poor.
An issue that comes up for me at work time and time again is customers misunderstanding how bandwidth is measured.